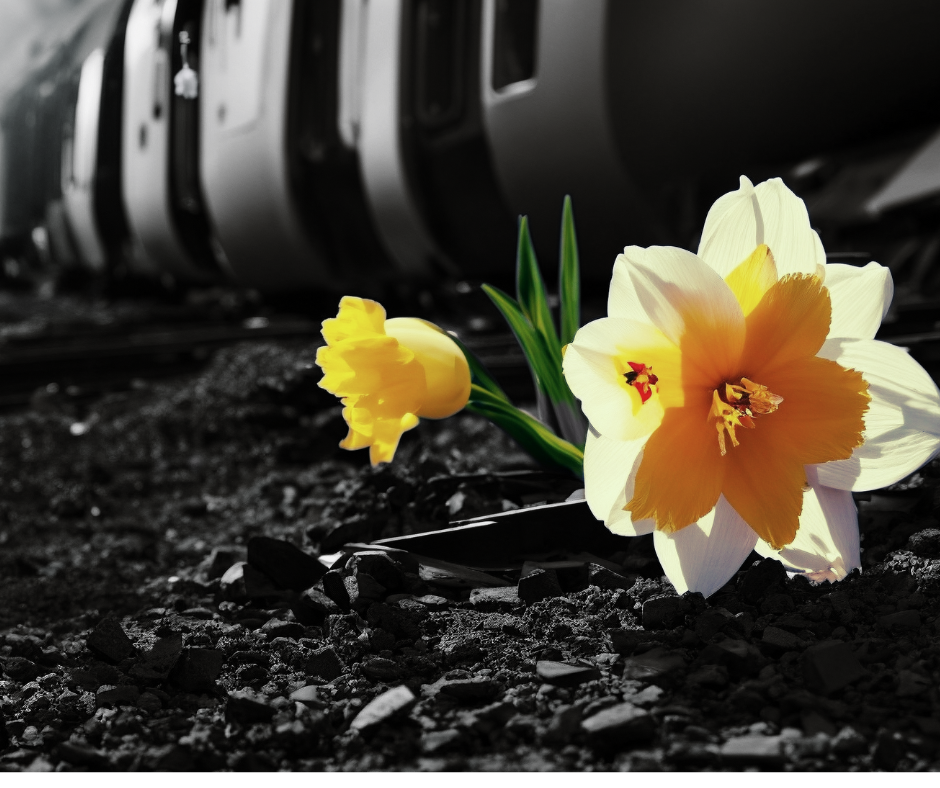 In East Palestine, Ohio, a journey unfolded over the past eight weeks that formed a pilot series called Restore-A-Thon™.  This marathon of restoration aimed at revitalizing the East Palestine (EP) community, co-produced by the team at Better Worlds, brought together passionate individuals from all walks of life.  It was a quest to comprehend the aftermath of the train derailment on February 3rd, to confront challenges, and to seek viable solutions. Amidst the myriad of ecological issues, we discovered that addressing the human factors is essential.
For a comprehensive understanding of the ecological restoration lens on this event, check out our news style podcasts, hosted by designer and eco-activist Ellie Young, founder of Common Action:
Episode 1 - Fight for Justice
Episode 2 - Toxic Impact
Episode 3 - Technological solutions
With lofty aspirations of making a positive impact on the EP community and the Ohio River watershed (from the derailment site at Sulphur Run East to Beaver Creek that flows into the river), in just eight weeks, we learned a valuable lesson—listening to the voices of the community is essential. Mariette Papic of Design Science Studio advised our solutionists to host a 'Listening Party' on June 17th, allowing us to hear the firsthand stories of local residents.
Local Insight From the Listening Party
Residents shared that despite the CDC downplaying the significance of the toxins, their firsthand experiences told a different story. Acute exposure to butyl acrylate, for instance, causes redness, tearing, and irritation of the eyes, runny nose, scratchy throat, difficulty breathing, and skin redness and cracking. These "forever chemicals" left a stomach-churning odor reminiscent of drain cleaner cleaning to everything in their homes. The CDC's suggested remedies have proven futile. Ash and dust from the chemical explosion have blanketed everything outside. Residents expressed frustration with inconclusive test results and conflicting information from officials and fellow residents.
Financially, the residents claim they have not received sufficient individual assistance to cover their losses and healthcare expenses. While Norfolk Southern pledged relief funds, the Family Assistance Center has proven difficult to navigate, offering minimal aid. Meanwhile, the railroad company invests in the township's festivals and parks, asserting that they are "making things right." However, the people suffering from illness feel neglected and unsupported.
Jami Rae Wallace has taken the initiative to form the Unity Council with multiple collaborators, a platform aimed at amplifying the voices of the community. Recognizing the importance of providing a space for East Palestine residents to share their experiences and concerns, Jami has partnered with us to ensure that every individual who was impacted by this event is heard via a cellphone video. If you are a local citizen reach out to her if you were impacted by the derailment / open chemical burn and want the world to hear your voice.
Amanda Kemmer articulated the divided perception: "There is an imaginary line. The chemicals only went one mile, but the plume maps show the chemical release went much further. We are sick, almost every day. I keep a journal so we can show our doctors. One pediatrician might say it's from the derailment, but the next might claim the chemicals were only in the air for 24 hours." The plume Amanda refers to was the toxic cloud that emerged when vinyl chloride was burned by emergency responders. The train was reported to be carrying more than 100,000 gallons of hazardous chemicals.
Courtney Miller vividly described her immediate response to the disaster: "I opened my house door, and the chemicals' smell immediately burned my eyes. My throat and nose felt like they were on fire… I gathered a few clothes for my kids and myself and left."
Lori McConnell reflected on the impact: "On February 3rd, a thief in the night came and took away so much from so many people…But they have done nothing to help the sick, noting that Norfolk Southern has allocated funds for renovating the park and organizing events like street fairs, pamper people's dogs and treat kids to ice cream.
Chase Kinder, fearing the consequences of exposure to benzene, vinyl chloride, butyl acrylate, and various chemical combinations resulting from catalysts like air, temperature, and water, decided to relocate to Tennessee. Chase was distressed by the lack of government agencies offering toxicology reports for surviving animals, and he worries about secondary poisoning among predatory creatures.
Another resident, recognizing the crisis at hand, emphasized the importance of supporting the community from the outset: "We have an opportunity to identify weaknesses and forge a new path. We must acknowledge the legitimacy of people's experiences. A Sunday support group in my office aims to help individuals move forward physically and mentally, reducing the toxic imprint. We must prioritize our liver and immune system support."
Ed Siceloff drew attention to the profound impact of even a single molecule of dioxin, which can trigger the growth of cancer cells. In the aftermath, an astronomical number of dioxin molecules—4,450 quadrillion—settled over the plume area. Every resident within its reach is affected as dioxin permeates bodies, lawns, and trees. Healing is sought through natural elixirs such as cruciferous vegetables, spirulina, chlorella, detoxifiers, turmeric, and certain mushrooms known for purging toxins and aiding tissue repair.
Displaced resident Zsusa Gyenes voiced her family's struggles, describing their existence in "hotel purgatory" with no end in sight. She held Norfolk Southern directly responsible for her nine-year-old son's positive test for vinyl chloride. Doctors unequipped to handle such chemical disasters and the absence of referrals to toxicologists intensified her concerns, leaving her feeling like her son's life was not a priority.
Ashley McCollum, another displaced resident, encountered fellow homeowners whose insurance analysts declared their homes uninhabitable. Disposing of everything and accepting rental assistance from Norfolk Southern seemed enticing, but the risk of selling her home only to later discover a child developed cancer from living there haunted her. She refused to subject anyone, including herself, to such a fate.
New Restore-A-Thon™ direction
With all these local insights, the production team at Better Worlds and Restore-A-Thon™ realize that in order to really rejuvenate East Palestine, we need to extend our efforts far beyond a one-time, eight-week event. This community requires an ongoing journey, persisting until it is entirely regenerated. Although we acknowledge the challenges ahead, the unwavering strength of our collective ensures enduring transformation.
We will be cutting the individual stories told at our Citizen Listening Party into individual segments to post on our Restore-A-Thon YouTube
For the next month, we will gather other stories from locals who haven't chimed in yet through Video Ask. If you are in the community, reach out to Jami Rae Wallace to help you with this.
Solutionists will continue to discuss options in Discord (join here!)
We will circle back with an invitation-only event in August to dive deeper.
The East Palestine Restore-A-Thon has kindled a flame of hope and communal pride within the town. As we gather the stories from the community, listen to each other, and embrace the concept of an "evergreen Restore-A-Thon™," we forge a path toward a brighter future. It is our goal to help carry this momentum forward, one step at a time, as we strive to restore EP. Together, we can create a legacy that withstands the test of time.
Special thanks for making this pilot possible:Daniel Swid, Basil Childers, Ellie Young, Jess Conard, DJ JKIND, who's releasing an original track about this soon, Tom Bevan, Anjali Mehta, Scott Circle Communications, Braden Trauth, Bob Bowcock, Mariette Papic, Ryan Iacovacci, Ansley Davis, Permatours, Scott C Smith, Jami Rae Wallace, Eco Lake, Kimberly Marsh, Troy Mork, Trent Brown, Kyle Hence, #Kennedy24, and Catalyst Creative Collective.