This is post 3 of 7 and is a recap from the DMRV Roundtable organized by ReFi DAO as part of ReFi Spring Series of Events
Sam Bennetts is leading Regen in GIS developing, and registry product manager (unfinished)
Regen's ledger provides an open source methodology development platform to build the infrastructure for centralizing infield measurement, digital management records, and geospatial data. It's their blockchain built on cosmos SDK and is  designed to track all information on claims related ecological state. This includes all MRV data and the actors involved.
Their application has a multitude of services: the eco credit module provides basic functionality like creating credits, trading, retiring them, etc.. The Ecological Claims Data module allows individuals to anchor and attest to pieces of data on-chain, essentially providing a digital audit trail of the information. Lastly, the Groups module allows people to engage in decentralized governance of certain processes that go into claims creation and digital MRV.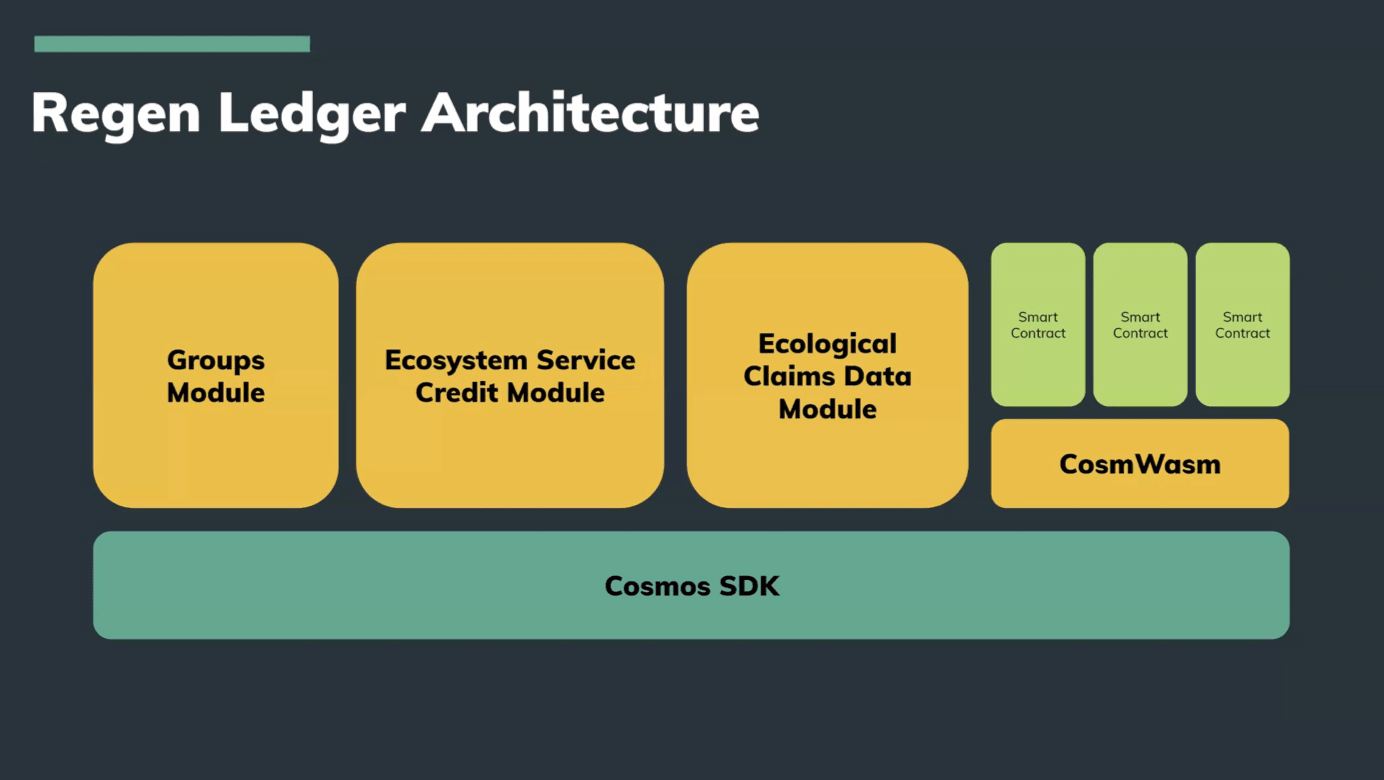 Sam concluded by covering an interesting pilot project on the verification of vineyard grazing in Northern California. By combining infield soil samples with Sentinel 2 remote sensing data, They can create an efficient map, tracking changes in soil carbon. Ultimately, allowing them to identify when grazing occurs in the vineyard parcels.
DMRV or digital monitoring reporting and verification is an important part of the global response to climate change, enabling countries to meet international requirements around carbon credits, biodiversity, certification, and progress towards goals. This event is made up of various organizations in the space.
Regen Network's infrastructure originates digital carbon assets in the Interchain economy, unlocking web3 regenerative finance.
We all know MRV is the key... The purpose of this event is to help people understand the emerging state of MRV (measurement, reporting and verification) in Web3. Leading organizations share their problem, vision, and solution. # About ReFi Spring ReFi Spring is a series of local in-person events taking place across the globe to support the emergence of Refi communities exploring and developing a new movement arising at the intersection of web3, regenerative finance, and climate action. The Refi Spring team recognizes the immense challenge that humanity faces in the Climate & Ecological Emergency and believes in the potential of the ReFi movement to spark a broad phase shift in civilization over the coming decades. Refi Spring exists to support local organizers to initiate new place-based hubs of Refi activity through a complete suite of support services that makes it easy for you to enable your community to learn and develop your own understanding and application of Regenerative protocols.
ReFi DAO is a founder-led startup community that accelerates impact for people and planet. We're working to embed Justice, Equity, Diversity and Inclusion into the heart of the ReFi movement. We believe the greatest point of leverage to accelerate impact is found in the quality of relationships and the depth of interactions between founders in the ReFi movement. If we can create deeply aligned clusters of ReFi founders in local and global communities, we will witness a new era of human and planetary flourishing known as the "Regenerative Renaissance". We can do this by nurturing regenerative culture through education and events and building coordination tools for identity, incentives and accountability.

Music provided by Gian Berselli, www.astralwolf.com
Roundtable powered by Mural.