Wes Geisenberger is the VP of sustainability and ESG at the HBAR Foundation where he leads the Sustainable Impact Fund focused on Climate Markets, Energy, and Supply Chain related areas.
Wes emphasized Hedera Hashgraph's capacity to do tens of thousands of transactions in seconds at extremely low fees. Hedera's structure allows it to grow substantially faster since new data is always woven back into the ledger maximizing efficiency.
Guardian is their open source tool that allows you to map all the methodologies that you're building, define the roles and allows actors with decentralized identifiers to plug in those roles so they can mint a token that has a link back to every single auditable attribute. With this process, Wes and his team can create a trust system where compliance reports contain every linked point of data.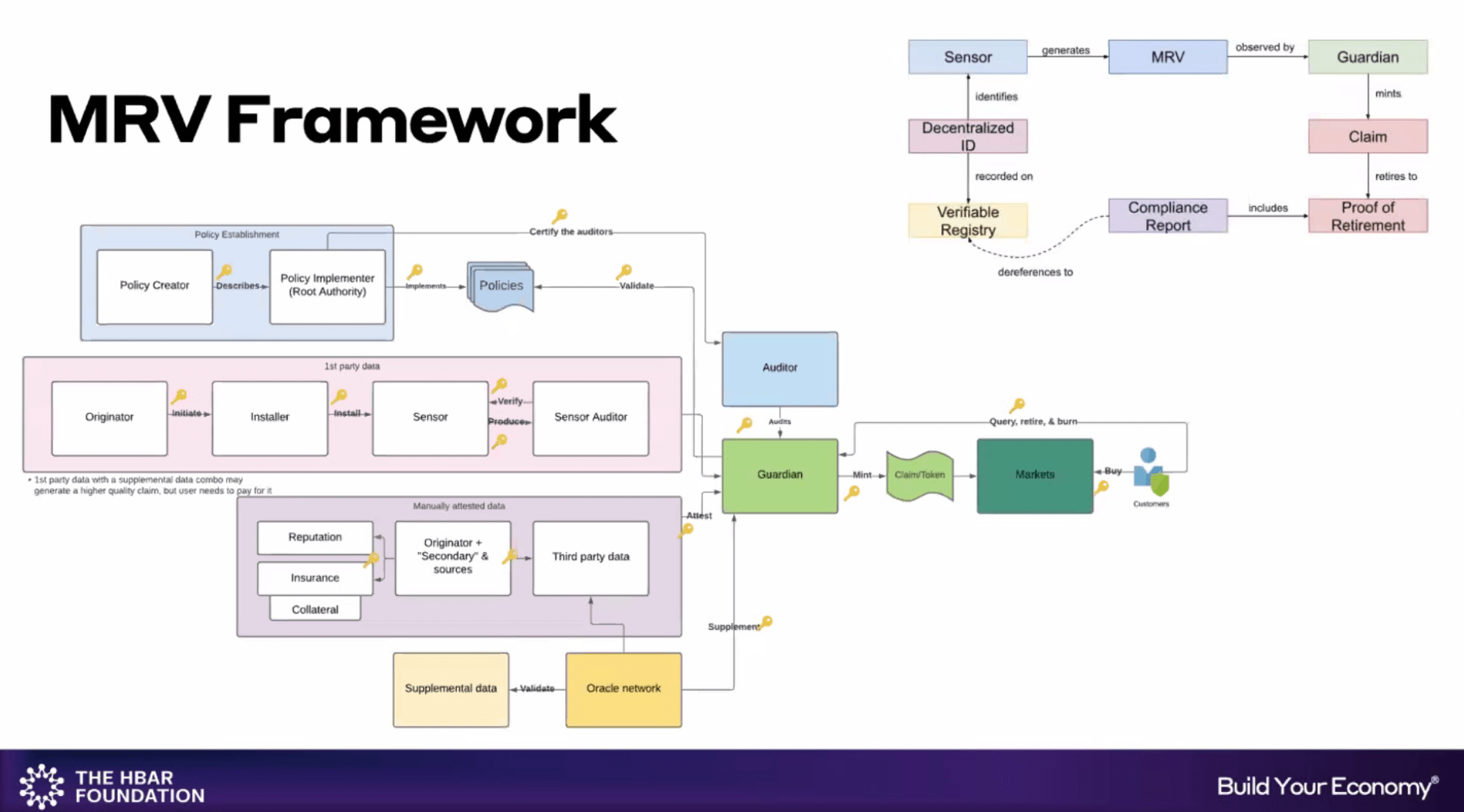 He concluded with briefly mentioning one of their partnerships, DOVU Earth, that is working with small farms by using a baseline, current day, depleted state of carbon soil, then implementing carbon sequestration practices to generate additional carbon capture. They're taking that data from their carbon calculator, logging it on Hedera, linking that in the memo field of token down to the metric ton in what they call a dynamic nft, and putting them on the marketplace. Each dynamic NFT is discoverable meaning who's calculated it, who's involved in the process, what attestations do they have, and they allow people to interrogate the real world data and the entire audit trail all linked on ledgeer
DMRV or digital monitoring reporting and verification is an important part of the global response to climate change, enabling countries to meet international requirements around carbon credits, biodiversity, certification, and progress towards goals. This event is made up of various organizations in the space.